Pitch your product: Colruyt Group wants to offer seaweed in a fun, hip and tasty way
2023-04-11
Meet the jury: Anna Gryseels of the Colruyt Group
'How can we offer consumers seaweed in a fun, hip and educative way?'
Colruyt Group has long been convinced of the potential of the North Sea as well as the significant economic and social added value of aquaculture projects. The group believes that marine protein sources, such as mussels, oysters and seaweed can provide an answer to the rising demand for balanced and sustainable protein sources.
But how do you convince the consumer of to eat seaweed? Anna Gryseels, from the Research, Development & Innovation department, is working on this on a daily basis. She's thrilled that she is a jurymember of the Seaweed Innovation Challenge. 'Consumers think seaweed is slippery. We are looking for solutions or products in which seaweed itself is not visible, but in which the health benefits are still present.'
Why is Colruyt Group joining the juryof the Seaweed innovation Challenge?
'We have been interested in seaweed for a long time now, seaweed is a very versatile product. On the one hand we look at seaweed for food, on the other hand for everything related to agriculture like bio stimulants (healthy soil) and animal feed. Seaweed contains a lot of vitamins and minerals and because we will soon be on the planet with a lot of people, we are looking for a new type of protein to continue to feed them. Seaweed has great potential to play a role in this.'
Where do people know Colruyt Group from?
'Most of them know us as a retailer with multiple brands: Colruyt itself, BioPlanet, Spar, Okay and Cru. In addition, we are also active in online pharmacy with NewPharma, In health with Jimss fitness and Bike Republic, in renewable energy with Virya.
How is this challenge interesting for Colruyt Group and their customers?
'We are curious about what the start-ups, and therefore the younger generation, are doing. To what they have discovered and what solutions they offer. In addition, we are also curious about the different countries, because each country has its own food culture. New ideas come out of that.
In Belgium people are not yet very familiar with seaweed. They are maybe familiar with sushi but not much more. I think it would be interesting to find a product in which seaweed itself is not visible, but in which the health benefits are present. That could perhaps lead to a switch to get consumers to eat more seaweed.
I'm also curious how the start-ups deal with their marketing, as that's an important part of their business plan. Consumers still have a lot of prejudices regarding seaweed, such as that it is slippery. Still, it's super healthy and easy to cultivate, nevertheless there is reluctance to eat it. This is an important challenge that the Colruyt Group is working on. We would like to make it mainstream and accessible to everybody. Perhaps one of those start-ups has a solution on how we can offer seaweed to consumers in a fun, hip and educational way. And, taste is key!'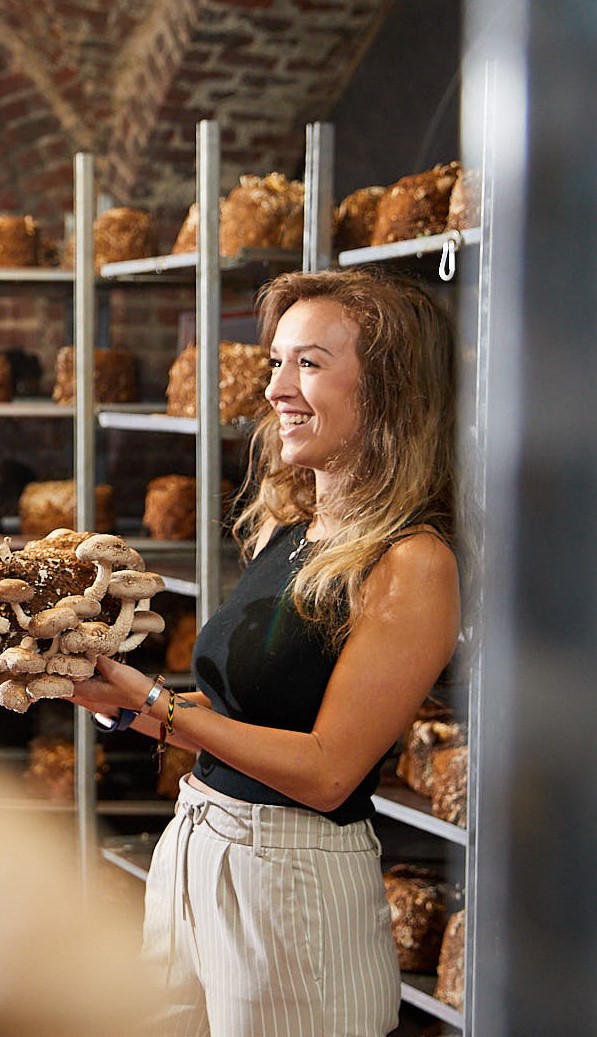 How do you personally feel about seaweed?
'That goes back to when I was a kid. My parents had friends from Japan and when I was thirteen years old I tasted seaweed for the first time. That's where my fascination began. At university in food engineering, I learned that seaweed contains many nutrients and minerals. I wondered why we were not exploring it more, where it is quite normal in the Asian culture.
There are many different flavors and forms of seaweed, they are also very good for the fauna and flora. It is also very sustainable and contributes to the restoration of the sea and marine ecosystems. I only see advantages!
That's why I'm really looking forward to the Seaweed Innovation Challenge, and I'm very curious about the different candidates and their creativity. Being in the jury, with Amazon, Nestlé and DS Smith is also very exciting. It's great to participate to this very nice initiative.'
What can Colruyt Group offer the winners?
'A 1-on-1 brainstorm anyway; an inspiration session in which we look at the winning project, and which things still need to be worked out to get closer to the consumer as a start-up. Startups do not always have a commercial insight. They start with a kitchen-scale product, but that doesn't mean it will work on an industrial scale. These are things we can help them with.
If we are interested in the product itself, we go beyond and discuss with our several business units and commercial teams to give them feedback. We also have know-how on Nutri-Score and Eco-score or we can introduce them to our network of investors.'
What else is interesting to tell about Colruyt Group?
'Sustainability and innovation (long term view) are in the DNA of Colruyt Group. We therefore have departments focusing on sustainability, packaging to help consumers reduce waste, health and food waste reduction. Water is also one of the important focus areas of Colruyt Group.
Colruyt Group has developed an Eco-Score, indicating the ecological footprint of a product. You can find more information on the Eco-score on our site: Eco-score | Colruyt Group
Sustainability and health will be one of the most important things we pay attention to in the pitches. And also, animal welfare, but with seaweed animal welfare is often completely okay.'
About Anna
Anna Gryseels works within the Research, Development & Innovation department. She is involved in projects on health such as sugar reduction, clean & clear label, and also in circular food. She also does projects on upcycling food flows, such as a recent project in which they used non sold organic bread from the Bioplanet to grow tropical mushrooms (including Oyster mushroom) for their retailers. She is also working on hybrid food, such as the burger+ seaweed with ingredients of The Seaweed Company. And they also try to bring innovation closer to the consumer. And off course she works on the food part for seaweed.
Pitch your idea
Send in your pitch before April 30th on the Seaweed Innovation Challenge.