NSF's Offshore test site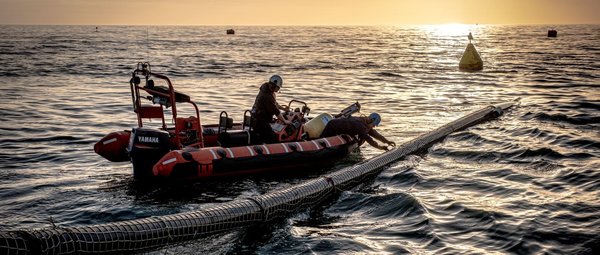 The largest offshore testsite (OTS) of Europe
Why the OTS?
At North Sea Farmers, we believe that action is the key to meaningful change. Guided by our mission to make a positive climate impact through seaweed, we recognized the need for a dedicated space to trial new innovations. Enter the Offshore Test Site (OTS)—your testing ground for bold ideas in offshore conditions.
What is the OTS?
Located 12 km off the coast of Scheveningen, the OTS is an innovation hub set on 6 km² of North Sea territory. It serves as an incubator for start-ups and scale-ups aiming to challenge and validate their innovations in the real-world, demanding conditions of the offshore environment.
How to utilize the OTS?
The OTS is compartmentalized into six 1 km² plots. Designed exclusively for our community of innovators, it offers a secure environment for piloting new solutions.
What does the OTS?
A licensed testing ground in the North Sea.
24/7 security provided by Royal Dirkzwager.
On-site diving and underwater investigation capabilities.
Collaboration opportunities with North Sea Farmers, boasting over seven years of OTS experience.
A fishing-free zone ensuring a safe test environment.
Cost-sharing options for logistics.
Essential vessels for material transport to and from the OTS.
Access to Svasek's weather forecasting model.
Exposure through the North Sea Farmers network.
Interested in Testing Your Solutions?
The OTS is open for anyone keen to pilot new technologies or upscale marine innovations. With our Waterwet permit valid until December 31, 2028, we offer a field lab specifically designed to accelerate sustainable multi-use projects. For any further questions, please contact Zinzi.
MEET OUR OFFSHORE TEST SITE MANAGER
Meet Zinzi, our OTS-manager and our expert when it comes to innovation in an offshore environment. She manages the activities at the OTS on a daily basis. Zinzi underlines the necessity of testing in offshore conditions:
"THE OFFSHORE TEST SITE IS A CRUCIAL PART IN THE SCALE-UP OF OFFSHORE SOLUTIONS THAT WILL MAKE POSITIVE CLIMATE IMPACT".
Zinzi elaborates on the great possibilities the OTS has:
"It is not just seaweed which is being cultivated here. Currently floating solar panels and artificial reefs are being tested as well; all part of multiple use of the North Sea."
Zinzi will be your point of contact when running a pilot at the OTS. She will guide you through the process from beginning to end. Not only will she provide technical support, but she has a great portion of positivity, helping you through the sometimes challenging days!
FAQ:
CAN WE VISIT THE OFFSHORE TEST SITE?
Our Offshore Test Site is situated 12 km away from the Scheveningen coastline. While the location may intrigue you, it's worth noting that the majority of the infrastructure is submerged, with only a handful of buoys visible on the surface. Therefore, while the idea of a visit might seem appealing, there's currently not much to visually experience at the site.
Check out the detailed positioning