'People have to get used to the fact that it smells like the sea'
2023-04-06
Caroline Buijsse-Cammaert and Carla van de Vijver of ZJÍ have long known that seaweed is beneficial for your skin. The nomination of their Seaweed Face Treament by Chondrus Crispus for the Dutch Beauty Award feels like an extra recognition for the founders. 'We believe in the natural beauty of seaweed. Apparently, the professional market is now just as enthusiastic about the effect of seaweed on the skin as we are.'
It is not a cream, with which ZJÍ is nominated for the Dutch Beauty Award, but pure seaweed. The Irish Chondrus Crispus, that is. Red seaweed that has been bleached and dried, and delivered in an antibacterial hemp bag together with a scallop as a 'drip tray'. 'Pure nature is just very beautiful and it is really an experience', explains Carla van de Vijver.
'Chondrus Crispus contains many active substances that nourish, protect and repair the skin. If you put the bag in warm water, the dried Chondrus Crispus regains its vital form, releasing the active substances in the form of a natural gel. You can then massage the Chondrus Crispus gel directly into the skin with the hemp bag. You can repeat this seaweed treatment a few times with the same bag and then the seaweed is simply compostable.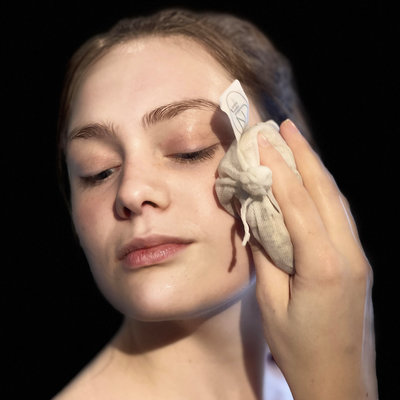 Soothing and moisturizing
Carla and Caroline discovered the Chondrus Crispus, which is also known as Carragenian or Irish moss, when they started seaweed baths. Their supplier pointed out the seaweed to them. 'It comes from Ireland and can only be harvested when it's a full moon, because then the tide is good,' says Carla. According to her, the red algae has a special effect. 'People with sensitive, inflamed skin or eczema can use it very well,' says Carla. 'Or if you suffer from red spots, even after sunburn. It softens, hydrates and penetrates deep into the epidermis.'
ZJI's website goes into this in more detail: 'Chondrus Crispus is rich in good fatty acids that contribute to the natural protection of the skin', it says. 'The high concentration of Carrageenan provides a thin protective layer (natural silicone) and a silky soft effect.
The antioxidants in turn protect the skin against external damage by, among other things, air pollution. It has a great anti-aging and anti-inflammatory effect. It contains the following substances: including Carrageen. iodine, magnesium, sodium, potassium, iron, calcium vitamin B12, vitamin C, protein, carbohydrates, manganese.'
Transition to salons
More and more beauticians are also discovering this effect, Carla continues. She reads a response from an enthusiastic beautician: 'I currently use the Chondrus Crispus as a scrub for damaged acne skin, dehydrated skin and aging skin. I leave the gel released from the seaweed on the skin for a few minutes after the scrub, after which I wipe it off with a warm moisture compress. The skin then feels very soft and hydrated. In short, highly recommended!'
The fact that their Seaweed Face Treatment has been nominated for the Dutch Beauty Award in the salon products category is no coincidence. Zjí ZJÍ has mainly focused on consumers with its beauty products since its foundation in 2021, but seaweed is not the easiest product to sell. That is why they have been focusing on the professional market such as beauty salons, skin professionals and online sales and beauty salons since January. Since then, they have been noticed more and more. 'Most consumers are used to cream and then this is something else, because this is the pure seaweed and also smells like seaweed. 'We have noticed that the threshold for use is lower if it is first recommended and applied by a professional person' just to seaweed. "'We have noticed that the threshold for use is lower if it is first recommended and applied by a professional person' just to seaweed. It works better if you come to a beauty salon with a problem and they recommend it. If you then receive a treatment with it, the threshold is lower to buy it for your own use.'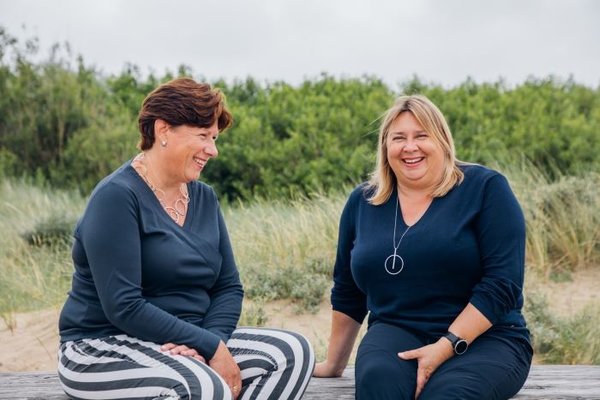 Forgotten knowledge
Caroline and Carla both grew up by the sea, and know better than anyone how beneficial that sea and seaweed are. 'As a child, you noticed that wounds in the sea healed earlier, and scars became softer,' says Carla. 'Our ancestors knew that a long time ago, that knowledge has only been forgotten. Although many people with skin problems still know how to find the sea to reduce it. When I was older, I started to delve into how to use the good of the sea at any time and where you are. How can we ensure that people can experience the natural good effect of seaweed for the skin not only in the sea but at any time and in any place. That inspired us for ZJÏ. We don't like botox," she laughs. 'Most of the things you need can also be found in nature without any chemicals being added. And that's where the natural beauty of seaweed fits in.'
The announcement of the Dutch Beauty Award will take place on 15 May at KIT Amsterdam.