INTERNSHIP SEAWEED CULTIVATION
2022-05-11
The Hague | 40 hours per week | 6 months | per July 2022
Are you a university or college student with an interest in sustainability, innovation management and offshore seaweed production? Do you want to work for a better climate, a circular economy and sustainable development with seaweed? Then we are looking for you!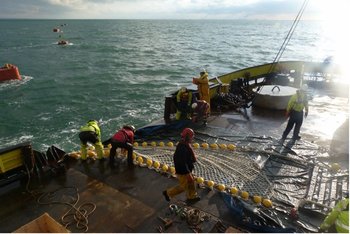 WHAT ARE YOU GOING TO DO?
You will be part of the Offshore Test Site team where you will learn all the ins- and outs of offshore seaweed cultivation. You will work on a variety of projects focused on developing offshore seaweed cultivation further in the North Sea. You will work with an array of stakeholders, ranging from fledgling start-ups to large corporations in the industry, allowing you to take a deep dive into the seaweed world. Next to that, you will work directly alongside our OTS-coordinator in managing offshore multi-use projects at our Offshore Test Site (OTS). We currently run five different pilots at this test site, you will help our OTS-coordinator with the needs for the projects. Examples are:
Help manage OTS operations for safe innovation offshore;

Investigate and implement new solutions for monitoring weather and offshore structures using on-site sensors or satellite data;

Hands-on work like seeding & harvesting of seaweed, support at inspections trips to the OTS or maintenance of our data buoy;
WHO ARE WE?
North Sea Farmers is a hands-on, non-profit sector organization supporting the international seaweed industry. Our team of 10 professionals represents our 100 diverse member organizations and the seaweed industry as a whole. NSF works on joint projects and knowledge exchange on all aspects of sustainable, large-scale seaweed cultivation in the North Sea. To demonstrate seaweed cultivation and facilitate innovation, we have our own unique Offshore Test Site: a plot of 6km2, 12 km off the coast of Scheveningen where our members can test innovations in offshore conditions.
WHY SEAWEED?
Both the climate crisis and the growth of the world population require us to look for new solutions. The cultivation of seaweed is a great opportunity in this regard: seaweed does not require land surface, fresh water or fertilizers to grow, making it one of the most sustainable crops to grow. It is a very versatile and nutritious plant that can be used for all kinds of (sustainable) applications: as food for humans, animals and plants, as packaging material and even biogas. We represent a sector that grows high-quality, safe and local seaweed in a nature-inclusive and innovative way.
Our vision? Seaweed farms located in offshore wind farms that pursue the synergy between nature (reinforcement), food (production) and energy (production).
YOUR PROFILE
You can take the deep dive into a task and keep the big picture in mind at the same time

You aren't afraid to get your hands dirty and are able to work independently;

You are social and are comfortable approaching people;

You can speak both Dutch and English appropriately
You are a university or college student with an appropriate profile, such as engineering, management of technology or the technical side of aquaculture;

You are interested in the cultivation side of seaweed and the offshore sector;

You are available from July 2022 onwards for six months period (full-time) in The Hague (expect 50/50 at the office/from home and flexibility for last-minute offshore or harbour work).
OUR OFFER
A challenging and varied internship for a unique organisation with a mission;

A small organisation with a motivated team that likes to get their hands dirty and gets things done;

A full-time internship allowance of € 500 per month.
INTERESTED
Send your letter of motivation (max. one page) and CV before June 3rd by e-mail to info@northseafarmers.org. Would you like to know more? Mail Zinzi Reimert via zinzi@northseafarmers.org or call +31 (0)70 31 84 444.