Press Release: Finalists Seaweed Innovation Challenge known
2023-06-09
'Jury surprised by the wide variety of seaweed applications'
Four international startups have won the Seaweed Innovation Challenge by presenting their seaweed-based food and packaging innovations. The pitch contest, which took place on Thursday 8 June at Old Church in Scheveningen, was part of the first edition of North Sea Seaweed, an event organized by the seaweed industry association, North Sea Farmers.
(photo credits: Jurriaan Brobbel Fotografie)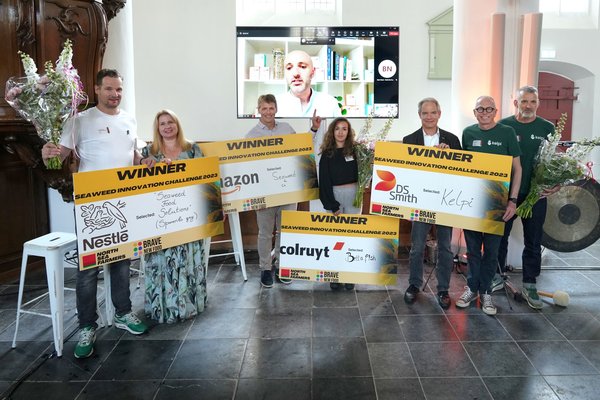 The winners are:
- Seaweed Food Solutions from the Netherlands specializes in processing and application of seaweed for the food industry. For this challenge, they are presenting a plant-based sparerib, made from seaweed and jackfruit. The innovative snack is said to be 'juicy, savory, meaty and even better than the original!'
- Seaweed & Co. makes sustainable and innovative PureSea seaweed ingredients in the UK. PureSea is 100% natural, sustainable and wild harvested from pristine waters to ensure extremely high quality, and is supplied in formats providing easy-of-use, and that are commercially viable for any food or nutrition application. Their aim is to intrigue, educate and advise manufacturers, brands and consumers on the benefits of seaweed.
- Kelpi is a UK-based material innovation company replaces single-use plastics with premium performance bioplastics that harness the novel properties and environmental benefits of seaweed. Their bioplastic packaging is home compostable and marine-safe, meaning after use it will readily decompose, leaving no toxins, in less than a year.
- BettaF!sh from Germany creates plant-based tuna made from seaweed that looks like tuna, tastes like tuna, works like tuna, but "doesn't cost a fortuna". Although there are thousands of species of seaweed, in Europe we are currently only cultivating five. Their goal is to invest in research and development to start and scale production of these other species, so that they can develop seaweed-based alternatives for all food categories.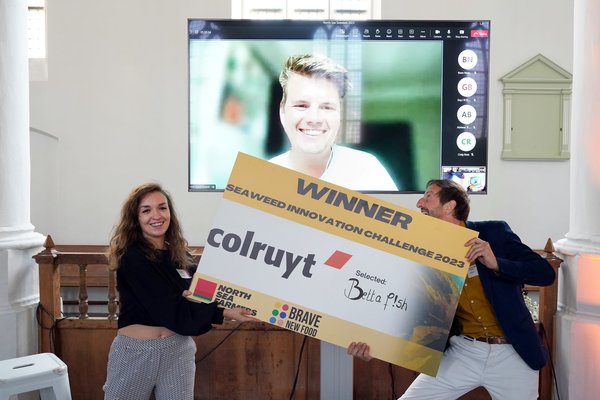 During the Seaweed Innovation Challenge, startups worldwide were able to submit their pitches on the innovation platform of Brave New Food. The organizer, North Sea Farmers, received 30 submissions with a wide range of food and packaging innovations utilizing seaweed. The participants came from 13 different countries, including the Netherlands, Germany, the United States, the United Kingdom, Norway, Tanzania, and Mexico.
The North Sea Farmers team, in collaboration with jury members from Amazon, Nestlé, Colruyt Group, DS Smith, and innovation partner Brave New Food, selected ten finalists. Consuming seaweed or using its fibers for packaging is still far from common in this part of the Western world. The finalists are all companies that see the potential of seaweed as food or as an alternative in packaging. These ambitious startups presented their innovative solutions to the jury on June 8th, with pitches and a seaweed market where their products could be tasted and viewed.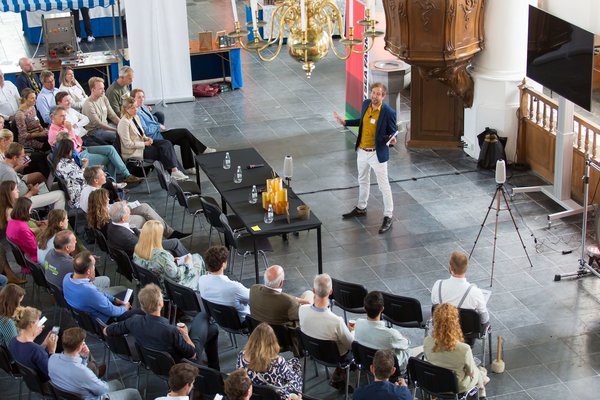 The other finalists were:
B'ZEOS is a Norwegian greentech company that develops innovative packaging solutions. Their products are entirely seaweed-based and biodegradable.
Dutch Seaweed Group produces the first organic wakame salad from the Netherlands. This local product not only has good nutritional values but also contributes to a better climate.
Dutch Weed Burger claims to make the best burger in the world, for the world - made from seaweed. It is 100% plant-based and packed with proteins.
FlexSea from the United Kingdom is a startup that creates seaweed-based packaging solutions. It is 100% edible, allowing for many new packaging possibilities.
Oceanium, also from the UK, develops and makes innovative ingredients for food, health and materials from sustainably sourced seaweed.
Olijck Foods is a Dutch food company offering two unique brands centered around seaweed: Meat-You-Halfway (hybrid meat) and Sea Veggies (plant-based food products).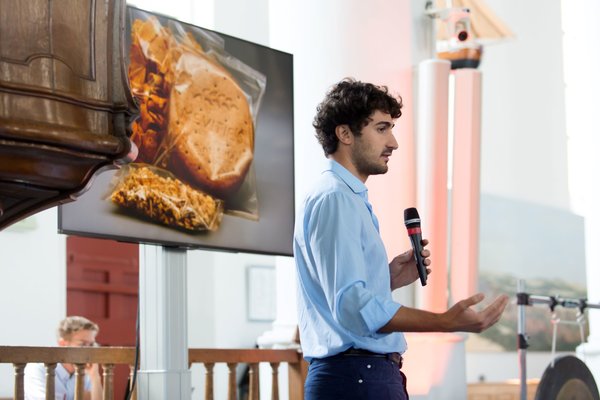 The judges were surprised by the wide variety of seaweed applications. Eef Brouwers, manager and co-founder of North Sea Farmers, expressed his congratulations to all winners, stating: 'Today we saw again that there are many questions about all the innovations in seaweed. Questions like: how does it work, and how do we get consumers to be as enthusiastic as we are? There is increasing interest in seaweed. I think we are very close to a breakthrough. In a product line or in another market. I hope this event will bring seaweed entrepreneurs and market players another step closer to that.'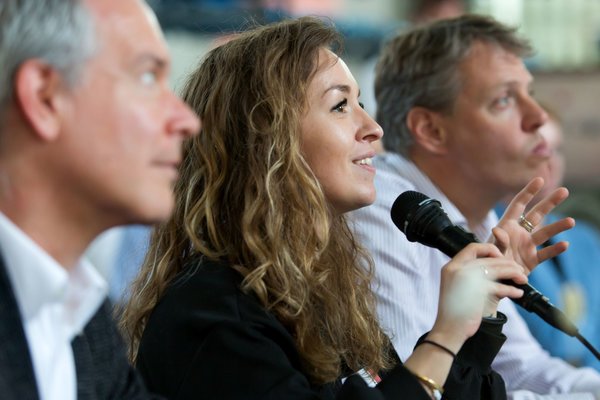 The 10 startups presented to an audience of leading retailers, food companies, investors, and other industry experts. Each startup had 2 minutes to pitch their idea before answering questions from the jury panel. Eric Klarenbeek, seaweed artist, designer, and entrepreneur at Klarenbeek & Dros and Weedware, hosted this member event.