Meet Win-Wind
2021-07-19
About Win-Wind
The Win-Wind consortium consists of the Wageningen Research Foundation (Wageningen Marine Research and Wageningen Economic Research) and a fishing cluster of Cramer Noordwijk Beheer BV (Rems Cramer), Noordzee Charters (Arjan Korving) and Rederij W. van der Zwan & Zn BV (Kees Taal). We have formed a consortium in order to obtain a subsidy from TKI Wind on Sea. Our aim is to develop the multiuse of Offshore Windfarms by passive fisheries of lobsters and brown crab.
Win-Wind activities
We are a team of fishermen, sociologists, economists and ecologists and fishery biologists. We are an interdisciplinary team capable of obtaining knowledge and actual realization of the complex environment of multi-use. We tackle issues like risk-reduction, transition, policy & management support, business models, environmental impact and stock assessments.
North Sea Farmer Win-Wind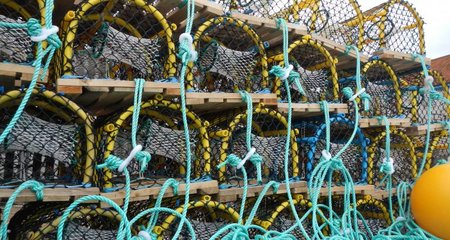 We share our vision for the future with all North Sea Farmers: harvesting healthy food from the sea. We see seaweed, the exploitation of seaweed and the operators and other participants as our natural partners in the multi-use of OWFs and other structures on the North Sea. Ideally integrated systems are developed in which there is room and carrying capacity for seaweed, lobsters brown crab, oysters and mussels.
As fishermen/ hunters we want to investigate the opportunities of sea farming. We envision that to maximize both profitability and sustainability it is preferable to do population enhancement of the crustaceans, e.g. by increasing surfaces of artificial reef. We are generating the knowledge how to maximize the yields also in terms of biodiversity
Wind will be a potential partner on the full scale of realization for the potential 400km2 of seaweed farms in the North Sea, from knowledge, policy, management and exploitation, providing input on all fields. We represent the interests, knowledge and insights of the fishery sector.
Get in touch with Win-Wind!
We are always open to new proposals and collaboration. In addition, we have knowledge and insights that we want to share in order to accelerate the realization of multi-use and sustainable exploitation of the North Sea. Contact Marcel Rozemeijer for more information via +31-6-20854613, marcel.rozemeijer@wur.nl