Successful installation of the eco-anchors
2022-02-11
After 3 years of work together with the AFAS Foundation, we are pleased to announce that this week, the prototype eco-anchors have been installed at the Offshore Test Site. These eco-anchors were developed to demonstrate that the key anchoring systems of seaweed farms can promote biodiversity. The anchors feature various materials such as wood, cork, and shells where local marine wildlife can more easily attach such that the anchor becomes a part of the ecosystem, and not an intruder. The AFAS Foundation has issued a press release on the project, you can find it here.
Following a week full of heavy winds and storms, the conditions settled enough for the eco-anchors to be installed offshore along with their net system. The nets, developed by the Wier & Wind project, will allow for seaweed cultivation. This operation, carried out aboard the Zwerver III of Van Stee Offshore, took nearly a full day where both anchors were positioned carefully into the right orientation, vibrated into the ocean floor, and then connected together with the nets from Wier & Wind. Our thanks to the crew of the Zwerver III and Ewoud Visser for managing the deployment.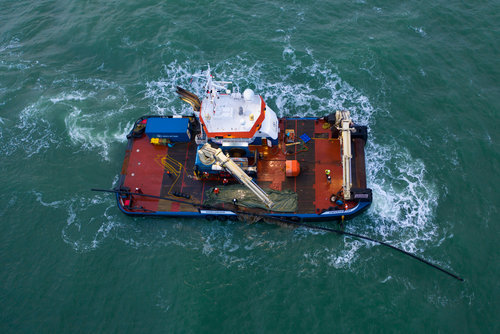 In addition to the installation of the eco-anchors, a test was carried out by Assistant Professor Apostolos Tsouvalas of the TU Delft. The aim of the test was to gain insight into noise levels produced underwater by the installation of the anchors offshore. Various measurements were carried out through deployment of multiple hydrophones placed close to the anchors. We look forward to seeing what conclusions can be made about the noise produced by the anchor installation and what can be incorporated into the process for the future.
North Sea Farmers would like to highlight that the development and now testing of these eco-anchors would not have been possible without the support of the AFAS Foundation. We hope that their support inspires the rest of the seaweed industry to follow suit and make a major impact in the scaling up of the sector in the years to come.
We will update you in the coming months regarding the inspection of the anchors so stay tuned in on our socials and website. We hope that the anchors are successful and provide insight into how we can further incorporate nature-friendly aspects into future designs!
Photo credits: Jurriaan Brobbel and North Sea Farmers