Are you our new Coordinator Seaweed Markets?
2022-02-22
Seaweed is increasingly seen as a nature-based solution for climate change and as an essential part of other sustainable innovations. North Sea Farmers works on building and developing markets and products both in food and non-food applications such as feed, fertilizers, biofuel, bioplastics, and other biobased materials. As an innovative European sector organisation based in The Netherlands we raise awareness, improve access to information and research and contribute to international and national policies and standards. We facilitate joint industry projects, and organise conferences and networking events, building on an active member network with actors from the entire value chain.
Are you the person that wants to know how the seaweed sector and all its applications and markets works? Do you like to connect with stakeholders to learn about the latest developments? Are you eager to identify bottlenecks in order to find solutions that work for the sector? Are you a natural in using your background in Natural sciences to come up with pragmatic solutions? Then we may be looking for you!
Who are we?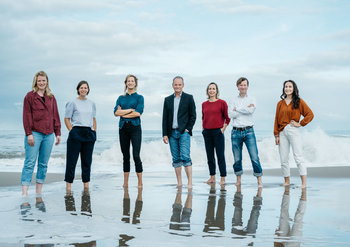 North Sea Farmers is an international non-profit membership organization for the seaweed sector, consisting of approximately one hundred diverse partners. NSF works on joint investment projects and knowledge exchange regarding all aspects of sustainable seaweed cultivation. The activities are focused on, but not limited to, the North Sea. We are a non-profit organization with an ANBI status.
Our mission
Together with our members, we develop and strengthen an economic sector that contributes to positive climate solutions, nature enhancement, environment, wellbeing and health. Therefore, on land and sea, North Sea Farmers' activities improve marine biodiversity, reduce carbon emissions and are part of the circular economy.
What do you bring to the table?
You are ambitious and intrinsically motivated to work with seaweed;
You understand the complex dynamics of balancing the interests of 100+ stakeholders;
You thrive on building relationships and supporting the growth of our members' businesses;
You have the entrepreneurial skills to pinpoint business opportunities and capitalize on them;
You have experience in connecting businesses with research programs & subsidies and drawing up research ideas;
You highly value knowledge gathering and you easily put dissemination into daily practice;
You have a beta or gamma background, i.e. a degree in Biology, (Bio)Chemistry, Physics, Engineering or similar;
You have at least three years of working experience in a related field;
You are skilled in the Dutch and English language;
You are available from June 1st 2022.
What do we have to offer?
A highly ambitious and impactful mission;
Challenging goals that will inspire you to grow personally and professionally;
A broad spectrum of pioneering stakeholders to work with;
A unique opportunity to help shape the seaweed sector;
An amazingly eager team of six professionals focused on achieving real impact;
A conversation starter at every party 😊
Salary indication between €30,000 and €40,000 per annum based on level of experience.
Interested?
Submit your one-page motivation and CV before 18 March to vacancies@northseafarmers.org. First interviews will be scheduled on Tuesday 5 or Wednesday 6 April. The second round will be on Tuesday 12 April. Will you hold reservations in your calendar as much as possible?
Would you like to know more? Please contact: Bas de Leeuw, bas@northseafarmers.org. Mobile: 06 – 22 03 48 33.