UNIted: 'Multi-Use platforms and co-locatioN pilots boosting cost-effecTive, and Eco-friendly and sustainable production in marine environments'
What is the UNITED project about?
The UNITED project aims to bring multi-use in our European seas a significant step closer. By means of scaled pilots in the various sea basins all aspects that are important to multi-use will be identified, from technical to legal and societal aspects. Any potential issues that are found during the execution of the various pilots will be solved by a broad range of experts. These solutions will hopefully help future European entrepreneurs in starting their own multi-use projects.
UNITED is carried out as part of the Horizon 2020 programme. It aligns with the long-term strategy of the European Commission to support sustainable growth in the marine and maritime sectors.
Why is this important?
Until recently, almost all offshore activities claimed unique user rights in their production area. With the increasing number of claims by various (new) users this approach is becoming unpracticable and in some cases even undesirable. Multi-use of marine space and facilities can help to overcome this. Over the past decade several initiatives have been undertaken to stimulate multi-use solutions and the fundamentals of multi-use have been developed. In the UNITED project we aim to translate these solutions from the development stage to demonstration in the actual operational environment offshore.
What are the objectives?
Enable large-scale multi-use of marine space through the development of pilots in a real world environment
Provide evidence of the viability of multi-use by showcasing the translation of technical, regulatory, economic, social and environmental solutions from the development state to demonstration in an operational environment in five pilots
Implement five demonstration pilots based on the designs in three phases:
(a) pre-operational phase: engineering, assessment, and redesign and adjustment
(b) operational phase: installation, operation & monitoring
(c) post-operational analysis, assessment and decommissioning
Raise (social) acceptance of multi-use activities in offshore wind parks
Raise the level of technologies and solutions available for multi-use activities in Europe
What do we do in this project?
North Sea Farmers are the lead of UNITED's Dutch pilot, which will take place on two plots of our Offshore Test Site. In this pilot The Seaweed Company will demonstrate the technical and economical feasibility of integrating seaweed cultivation in an offshore wind farm. Oceans of Energy will do the same for the integration of floating solar. North Sea Farmers, as the European seaweed sector organisation, will share knowledge and experience from our earlier (multi-use) pilots and connect the seaweed community where possible to jointly bring multi-use offshore seaweed farms a step closer.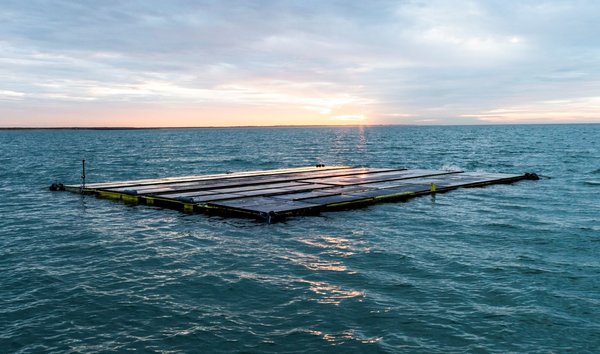 What are the results so far?
Design of the seaweed cultivation system that will be installed at our Offshore Test Site during autumn 2020.
Report: Review of Technology Readiness Levels, legal aspects, technical solutions and risks of all UNITED pilots – soon available here.
Who else are involved?
Submariner network for blue growth (Germany)
Wings (Greece)
Ecologic institute (Germany)
Royal Belgian institute of natural sciences (Belgium)
Oceans of Energy (the Netherlands)
Spok consultants (Denmark)
Brevisco (Belgium)
Parkwind (Belgium)
Colruyt group (Belgium)
4h-Jena engineering GmbH (Germany)
Stichting Deltares (the Netherlands)
Forschungs- und Entwicklungszentrum Fachhochschule Kiel GmbH (Germany)
Universiteit Gent (Belgium)
TNO (the Netherlands)
Syddansk universitet (Denmark)
The Seaweed Company (the Netherlands)
Kieler Meeresfarm GmbH (Germany)
Hidromod (Portugal)
Planet blue diving center (Greece)
Kastelorizo aquaculture (Greece)
Ventolines (the Netherlands)
Jan de Nul group (Belgium)
Finance: €11.4 million for a period of 3.5 years
Partners: 25 partners from 8 different EU countries, with deltares as coordinator
Time: 1 January 2020 - 30 June 2023