The first North Sea Farmers' Innovation Award granted at Seagriculture 2022
2022-07-04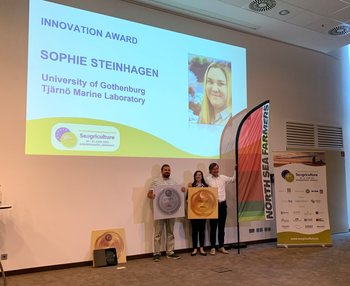 The eleventh edition of Seagriculture EU took place on the 29-30 June in Bremerhaven, organized by DLG Benelux. After two years online, it was the first time since 2019 that people could meet in person once again at the International Seaweed conference, which combined plenary sessions with poster presentations and trade shows. Many European countries were represented among speakers, exposers, and attendees. North Sea Farmers was very pleased to support the Innovation Award.
The conference was opened with, among others, the participation of Sandra Bender, German State Secretary from the Ministry of Food and Agriculture and it was closed by a representative from the European Commission responsible for Blue Economy Sectors, Aquaculture, and Maritime Spatial, Maris Stulgis. They highlighted the importance seaweed can play within European food security by being a part of a more sustainable food system. Policy makers indicated they are onboard to increase, promote and ensure safety of consumption of algae-based products and understand that seaweed represents an opportunity for more sustainable businesses, playing an important role in transforming national and European economies to achieve the EU Green Deal goals, such as a more circular bio-economy.
In between, talks covered the latest research and business aspects of the sector. Fresh results from different methods and technologies allowing more reliable and cost-effective seeding and cultivation solutions both on land and offshore were presented. Challenges and opportunities of scaling up production were covered and different businesses showed how they are currently operating in different parts of the globe, providing both environmental benefits and job opportunities. Several discussions were raised about ways to increase seaweed products in the market, including the use of aquaculture certification schemes, something that even though is increasing lately in Asia, especially Korea, still is not common in Europe. Cultivating seaweed for the indirect (kelp, offshore Namibia) and direct (sargassum, open ocean/subtropical gyres) carbon capture was also a topic that raised interesting discussions in the plenary sessions.
During the last day of the conference, Eef Brouwers presented the winners of this year's Innovation Award, powered by North Sea Farmers. The Bronze went to Rhianna Rees from SAMS Entreprise (UK) for developing 'The Seaweed Academy', a platform dedicated to connecting people by offering training, education and business development. Alexander Ebbing and NIOZ (NL) won Silver for their automated system for delaying gametophyte propagation, and open-source innovation that can be used by the entire community. Finally, Sophie Steinhagen from University of Gothenburg (SE), won the Gold Award for her innovation cultivating Ulva at open sea.