Avoid blue washing by setting norms in the seaweed sector, UN Conference recommends
2022-07-04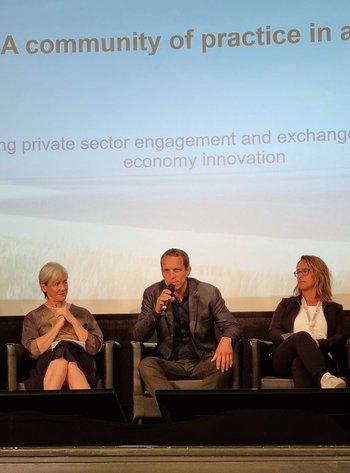 Last week, the UN Ocean Summit was held in Lisbon. As a follow up of the Climate Change COP held in Glasgow last year seaweed was put higher on the agenda than ever. Cultivation of seaweed across the planet is booming, more and more countries discover the potential of seaweed as nature-based solution for Climate Change.
Thanks to in particular the new Safe Seaweed Coalition and the UN Global Compact awareness was raised about the various applications and markets for "sea vegetables" or "sea forest". On a special Seaweed Day chefs presented recipes and participants could taste seaweed snacks and seaweed bread at lunch. Textile and fashion influencers presented seaweed clothing. These were all eye-openers for the thousands of United Nations diplomats and staff, high-ranking government representatives and "major groups", such as business, research, women and youth.
North Sea Farmers was for the first time officially accredited to the event and participated in various sessions. The Dutch multi-use approach for marine spatial planning was welcomed. Seaweed cultivation can go hand in hand with wind and solar energy, fishery, aquaculture and nature-restoration. It was observed that there is a trade-off between voluntary stakeholder strategies and solid government incentives (regulations, subsidies, infrastructure and research) and between speed versus patience. We may not have the time to be patient, as one participant said. "Blue washing" needs to be prevented by norms and regulations, so that industrial developments at sea can really be sustainable and responsible.
Many speakers, including NSF's Bas de Leeuw, observed that seaweed is ticking all the boxes of the UN Sustainable Development Goals, such as poverty reduction, responsible production and consumption, climate change, life below water, health and wellbeing, innovation and industry. "It's a super sustainability crop", Bas de Leeuw, said in his presentation of the results of the Dutch pilot of the EU Horizon 2020 United project, "it has great potential. No extra space claims in the busy North Sea are needed if we manage to use the existing and planned offshore windfarms together. The operations have to be nature and environment inclusive. We have to avoid the mono culture practices of the land-based agricultural sector". He introduced the eco-anchor project, support by the Afas Foundation, as an example of pioneering work in this matter. Participants showed great interest, also for use in other seabasins, such as in the Baltic Sea.