Introducing OceanWide Seaweed
2022-12-16
OceanWide Seaweed, our newest member, developed an innovative and sustainable seaweed farming method, which allows large scale and profitable cultivation of the red algae Dulse. This farming method applies a microporous net structure and enhances the growth rates considerably, while reducing biofouling. They are interested in establishing collaborations, to commercialize their growth modules and distributing their harvested Palmaria Palmata.
WHAT IS OCEANWIDE SEAWEED?
Our startup OceanWide Seaweed ApS was founded in 2022 and focuses on the development of innovative growth substrates and commercial cultivation of the edible red algae Palmaria Palmata.
We are based in Odense, Denmark and have three co-founders: Finn Holm has a strong background in Innovation and Business Development. Jeppe Bach Sloth has in-depth knowledge in the area of Sport and Health Science, while Peter Søndergaard Schmedes is one of the leading Palmaria Palmata scientists in Europe.
WHAT DO YOU DO?
Our growth method allows sustainable, large scale and profitable cultivation of red algae Palmaria Palmata. This species is a very complex one to cultivate, as it is usually strongly affected by biofouling (the attachment of other microorganisms to the seedlings), which kills the plants, while it needs to grow on rock formations.
Thus, we developed in collaboration with DTU Aqua and one of the global leaders of fabric technologies, completely new materials, which have certain microporous structures to make the Palmaria Palmata more resistant, while preventing biofouling and replicating a rock formation.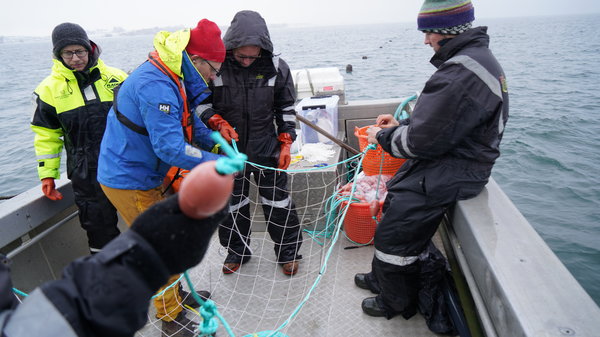 We are testing the materials and growth modules on our farm in Limfjorden, Denmark, to extensively analyze them and identify the most effective one for Palmaria Palmata cultivation.
Our method reduces the farming space required, while providing a higher average yield. In addition, we are operating as a B2B company and will provide the innovative growth modules through a licensing model to other seaweed farmers. We expect to launch our product by summer 2023.
WHAT MAKES OCEANWIDE SEAWEED A NORTH SEA FARMER?
We chose to be part of North Sea Farmers, as it represents a really good opportunity for us to share and expand our knowledge within the seaweed industry.
WHAT COULD OTHER NORTH SEA FARMERS APPROACH YOU FOR?
Here, we are interested in establishing collaborations, to commercialize our growth modules and distributing our harvested Palmaria Palmata.