NORTH SEA FARM 1
The first commercial demonstration of an integrated seaweed company based on sustainable and nature-inclusive seaweed production in an offshore wind farm
This year North Sea Farmers (NSF),
Van Oord
and
Algaia
will launch the world's first seaweed farm located between offshore wind turbines in the Dutch part of the North Sea.
Thanks to a grant funding from
Amazon's Right Now Climate fund
, we can start with the innovation phase of this 25+ year seaweed operation in which we not only will produce seaweed but also process it into products that can be used by European markets.
The farm is scheduled to be installed and seeded in the autumn of this year. This first harvest is expected spring 2024. Amazon's funding will also enable research into the carbon capture potential of seaweed farms, during this first operational year.
THE NEXT STEP IN CULTIVATING SEAWEED
It was 2020, North Sea Farmers had been working for over 6 years to help the seaweed sector grow. We were grateful for the many important steps forward that the sector had been able to take. At the same time, being realistic we also had to conclude that some much needed developments did not seem to take-off.
One of them was the scale-up of the production volume in Europe. A crucial building block because without any predictable supply of high-quality seaweed, no market could adopt seaweed-based products. Even with the best product in the world, if companies cannot supply their customers now or in the near future then they will not invest and the development stops.
At the same time, there was a fierce stakeholder debate in The Netherlands on the future of the (Dutch) North Sea. As a follow-up of the Paris Climate Accord, The Netherlands have made the decision to invest in offshore wind. This introduced new claims for space in the North Sea and this had to be agreed with existing stakeholders. Very understandable, but it did not leave a lot of room for any new stakeholders. And with seaweed we saw (and still see) a bright future for scale-up of production in offshore wind farms; safer and co-usage of otherwise unused North Sea space.
That's why we concluded in 2020 that as seaweed sector organisation we needed to 1) support the scale-up of locally produced seaweed and 2) try to give better visibility to the seaweed sector in the stakeholder dicusssions on the future usage of the (Dutch) North Sea. This moment was the birth of the North Sea Farm #1 initiative, starting the first large-scale seaweed farm inside of a wind farm.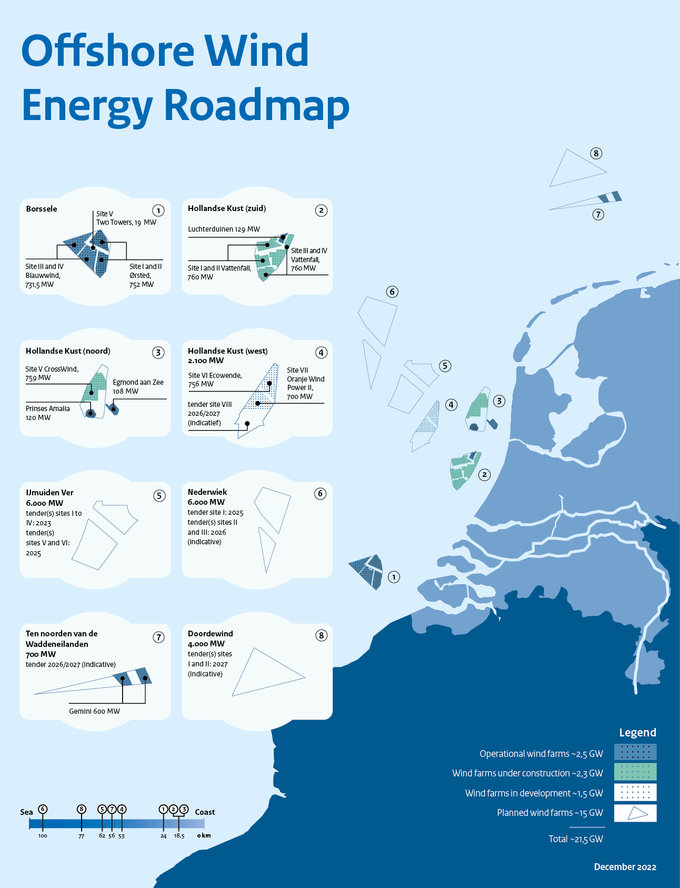 NORTH SEA FARM#1 - FROM INITIATIVE TO PROJECT
That was one of the many discussions we had as part of this ambitious project in the context of many people telling us this was a crazy ambitious idea. These discussion were very important because they helped to define a project that could truly help the European seaweed sector - below we will explain this project and how it can help the sector. Fortunataly for us, there were enough members in the NSF network that saw the value of what we were trying to and who don't run shy of a challenge.
In September 2021 we joined forces with The Seaweed Company, Van Oord Marine Contractors and Algaia. Supported buy the First Time Right facility from InvestNL, it then became a project that we jointly would try to develop in the months to come.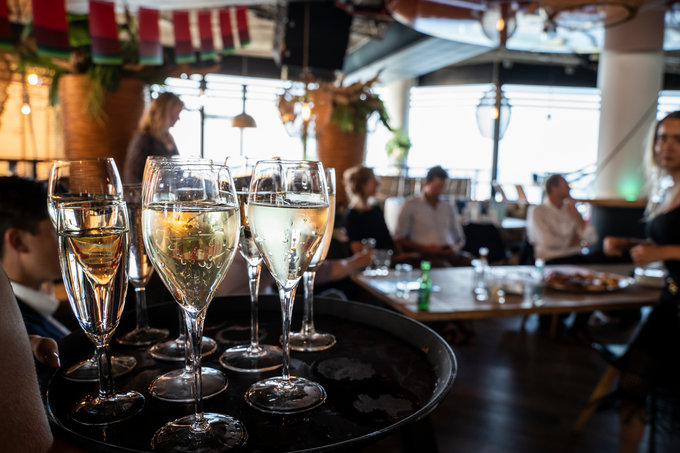 PURPOSE OF THE NORTH SEA FARM#1 PROJECT
Giving a boost to the scale-up of the sector and evolving into a visible stakeholder for the discussions on the future of the (Dutch) North Sea. That's why we started this project in the first place but it's much more interesting to understand how we will achieve this. And more importantly, where this will bring us as European seaweed sector?
SHOW THAT SEAWEED FARMING BETWEEN OFFSHORE WIND TURBINES IS TECHNICALLY POSSIBLE
Let's start by quoting Joost Wouter of The Seaweed Company stating that "seaweed [production] in an offshore wind farm is the Formula1 of seaweed production". And he couldn't be more right. It's far, it's deep, it's dangerous and it's expensive. At the same time, we're confident that it can be done and that's what we will demonstrate.
The project will work on seaweed growing systems that are safe, robust and have high yields. Engineered with the best design codes and using more than 5 years of experience with North Sea pilot projects. Members such as Murre Technologies and Boeg Nautic have built seeding and harvesting machines that can help with safe and efficient offshore production.
Eventually, we want to limit the number of offshore visits because it's more sustainable (lower energy/emissions footprint), safer and reduces cost. Therefore, various sensors such as are being developed by Aqitec and Lobster Robotics will be tested that allow you to monitor the farm from a safe and warm office.
DEMONSTRATE THE YOUNG SEAWEED SECTOR CAN ORGANISE ITSELF
No bread without a wheat farmer and no bike without a saddle manufacturer. Every supply chain link needs to be ready to play its part. North Sea Farm#1 will show you that you can buy high-quality seaweed seedlings from a company such as Hortimare. Seaweed growing systems from CIV Den Oever or Nettenfabriek de Noordzee.
Doggerland Marine services can help you with any offshore logistics. Ocean Rainforest, The Seaweed Company and Ocean Forest can help you with growing seaweed. Dutch Seaweed Group and Algaia can process you seaweed into end products and a company like Barentz or Yourwell can distribute your seaweed ingredients.
This doesn't do justice to all companies that are not listed here but there are many other valuable seaweed companies out there. They can and will organise themselves in a dependable and high-quality supply chain for any food, feed, biostimulant and biomaterial product you may require. If you did not already know this, then North Sea Farm#1 hopes to show you in the coming years.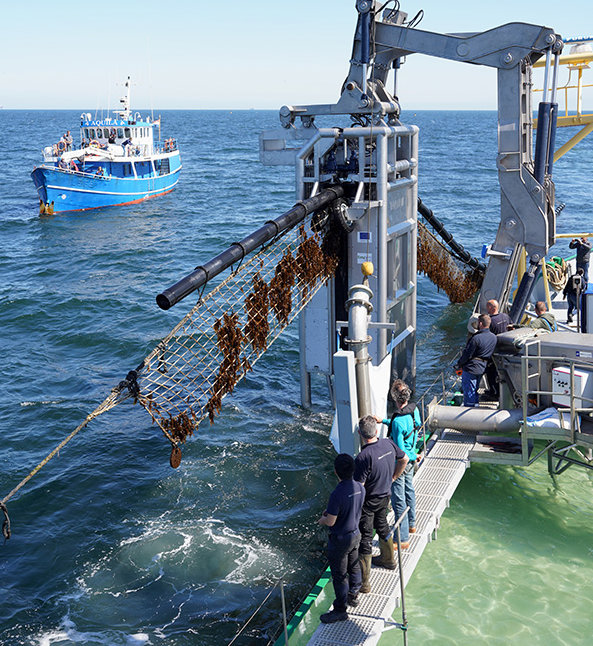 Beeld: Jurriaan Brobbel Fotografie
CONFIRM GENUINE INTEREST FROM EUROPEAN MARKETS IN SEAWEED PRODUCTS
Seaweeds are already being used in various European markets. We all know the sushi example but many of us don't know that seaweed or its extracts are used in animal feed as health enhancer, cosmetic products as texturiser, in agriculture to increase resilience of crops, etc. Unfortunately, most of these products are made with imported or wild-harvested seaweed. We think we can do better than that.
Therefore, NSF#1 aims to show that we can also make these products from locally and sustainably cultivated seaweeds. The harvested seaweed from NSF#1 will initially be used to make samples of food ingredients as well as ingredients for cosmetics (texturiser) and agriculture (biostimulant ingredient). With these samples the seaweed sector can engage with the market. Having a conversation on seaweed-based solutions for the future is a lot easier when there are actual samples on the tables that you can touch, smell, taste and test.
This could help to transform market interest into tangible written intentions, something that will enable investors and financers to take next steps as well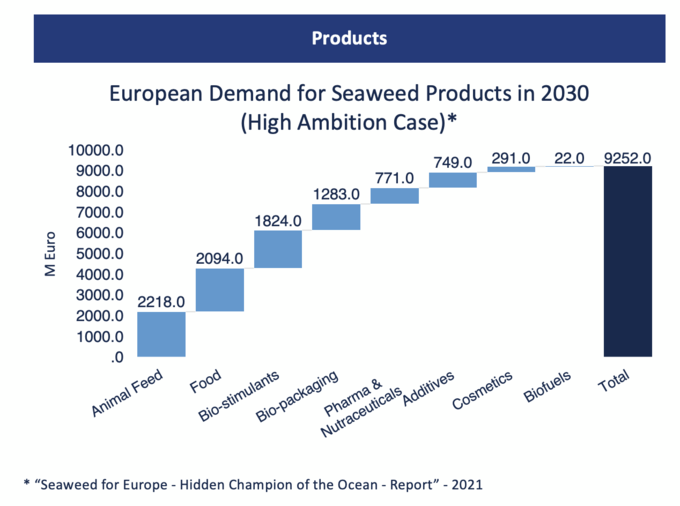 A sustainable and nature-inclusive future for the seaweed sector
Scaling without limits can have big consequences. As a society we are becoming increasingly aware that this happens more often than we anticipated, usually from a development that initially seemed to solve problems. We want to prevent this from happening with the seaweed industry in Europe. That means we have to identify and define boundary conditions for growth. That is a process that all stakeholders will have to engage in but for the NSF#1 project we already want to make the following proposal.
Safety comes first. We want everybody to return home safely after a day's work in the seaweed sector of the future.
It must also be safe if you're a consumer, co-user, fisherman or an animal living on land or at sea. In NSF#1 we will therefore define and test rules for safe operation, not only for the offshore farm but also the onshore operations.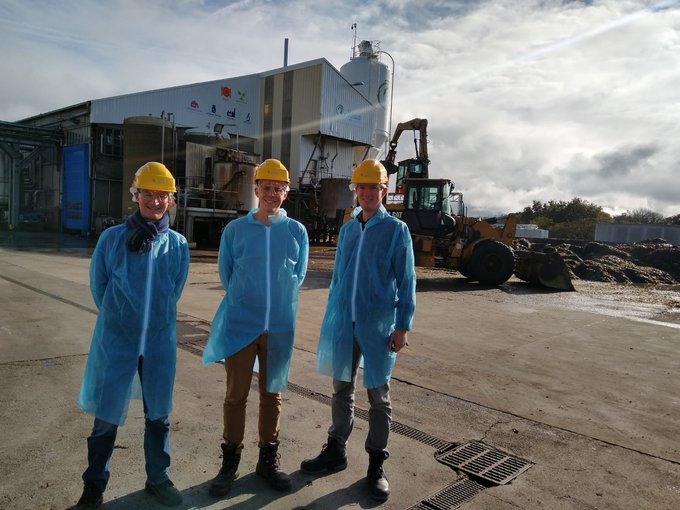 How to ensure a fair share in risks and profits. We know from many existing supply chains that the producers of the raw, unprocessed resource usually don't get the best price but have a high risk. We know these examples from global coffee and cacao markets but also from our local farmers. Actually, this is also a reality for many seaweed farmers around the world.
We believe that a better model is possible with a fairer sharing of risks and profits over the supply chain. A vertically integrated company in which various supply chain partners will participate. Not a new company that tries to be an expert in all areas but rather a supply chain collaboration where each company performs its core activity to the best of its ability. For NSF#1, the collaboration of supply chain comprises of:
· Van Oord, who will design, build and perform the offshore infrastructural works
· Algaia, who will process the harvested seaweeds into ingredients,
· A seaweed farmer, who will produce and harvest the seaweed – at the moment talks are underway with a supply chain member that may take up this role, and
· North Sea Farmers, who will do the overal coordination and permit application.
In the end, NSF#1 will sell the intermediate/end-products and not unprocessed seaweed. The profit that is made from sales will be shared between partners in relation to their share/exposure in the activity.
It's one of the main objectives of NSF#1 to test this model. And if it works, then we will not only have a blueprint for scaling up the industry technically and commercially, but also will have secured a fairer position for each supply chain partner. We're anxious to find out if we can make it work!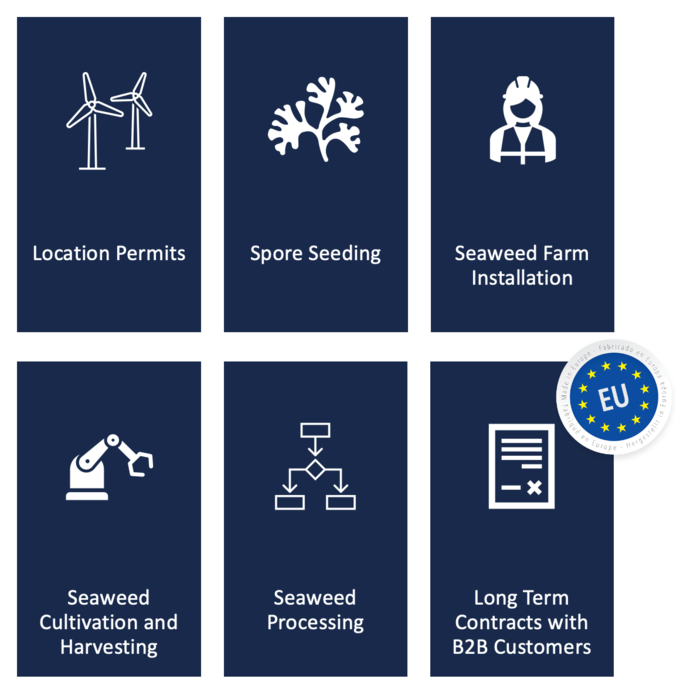 We believe in seaweed as a renewable resource that can be used for products in a multitude of European markets. Products that nowadays often require resources from other parts of the world such as soya, animal protein or mineral oil. We can grow it locally without dependency on international supply lines that have a higher risk of being disrupted or have a bigger footprint.
It becomes even more interesting if we are to use seaweed as part of a circular system. We grow it from excess nutrients and CO2 in our oceans, then we use it on land in various products. Over time these products will reach their end-of life, will be biodegraded and the decomposed nutrients will flow back into the ocean and the cycle can start again.
THERE IS NO OTHER WAY THAN NATURE-INCLUSIVE
Scaling-up the seaweed sector creates great economic, societal and environmental opportunities but there are also limits. It's obvious that we should and will not fill-up the entire North Sea with seaweed farms. But how many farms, what should they look like and where not to cultivate.
These are valid questions that we do not know the answer to yet. What we do know is that the future seaweed industry needs to be nature-inclusive. It needs to operate in balance with the ecosystems both at sea and on land. This means we need to understand the ecological limits such as maximum amount of nutrients we can extract from the sea or the effects on the behaviour of and risks to marine life. But also on its environmental opportunities. Can it help with reducing eutrophication (=too many nutrients in the sea), acidification due to increased CO2 in our atmosphere, or support marine life and biodiversity because seaweed farms form a food source, create habitat or provide shelter?
NSF#1 hopes to answer these questions in the coming years. The project will involve as many researchers and research projects as possible. Facilitating research based on in-situ measurements of the impacts rather than desktop models.
The first research that will be performed is into the carbon absorption potential of seaweed farms as funded by the NSF#1-Amazon project. If you need a large scale offshore seaweed farm for your research project (proposal), then do get in touch with our colleague Maite. We're more than happy to help!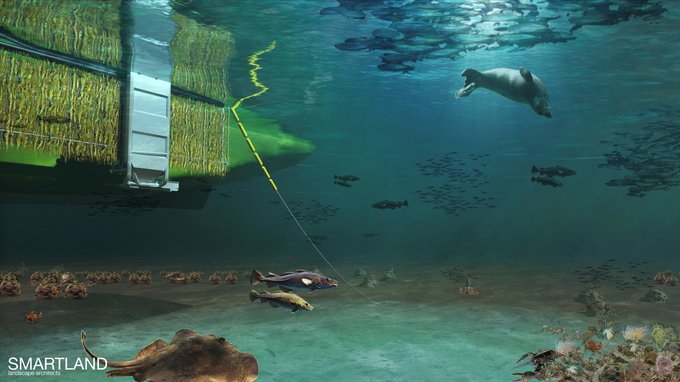 Beeld Smartland landscape architecture
North Sea Farm#1 will evolve into a blueprint for the industry
NSF#1 aims to evolve into a blueprint for offshore seaweed farming by working towards a commercial viable scale and business model. Today, we assume that future seaweed farms will produce at least 10,000t of fresh seaweed per year. Also, we assume that they will have a lifetime that is bound to that of the wind farm – so when the wind farm is removed, so is the seaweed farm. Currently that means a maximum lifetime of 25 years but we hope that in the near future this can be extended to 40 years or perhaps even longer.
For NSF#1 we are therefore working on the basis of an approximate 25 year lifetime. But we will start with modest steps first. During the initial 5-year innovation phase we need to make it work. This includes:
Robust and cost-effective seaweed growing systems with predictable yields
Making and testing seaweed-based products
Raising interest from policy makers and investors to create conditions for growth of the sector and NSF#1-like projects
Assuming that we will be successful enough on the above points, NSF#1 will be scaled to 400 growing systems that will occupy around 10km2 and produce 10,000t fresh seaweed each year as follows
Innovation phase: 2023-2028 (5yrs)
Pre-commercial, innovate towards break-even
Scale from 2 – 30 seaweed growing systems
First commercial phase: 2028-2035 (7yrs)
Stepwise scale-up to 400 systems
At least 10,000t of fresh seaweed/yr
Second commercial phase: 2035-2042 (7yrs)
Full scale operation, 400 systems
At least 10,000t of fresh seaweed/yr
Replacing systems after 7 yrs of operation
Final commercial phase: ("42 - 7yrs)
Stepwise scaling down to zero systems
Remove systems as they reach end of life (7yrs)
First of all, we hope that NSF#1 will be a successful project with many lessons learnt and that it paves the way for the future of the industry. And secondly, we hope this will encourage many other people, companies, investors and markets to copy this concept and grow the European seaweed sector to the next phase.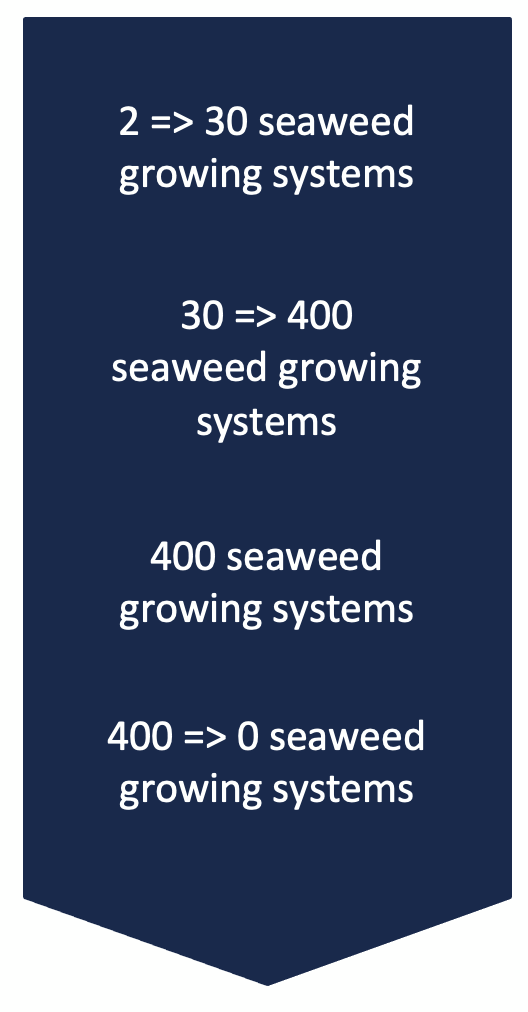 IT'S A JOURNEY, WILL YOU JOIN US?
This project is a major challenge and it does not lack ambition as you can read above. It will have successes and disappointments, challenges and opportunities. We do not know what the future has in store but we can assure you that the NSF#1 project partners will do everything in their power to make this a success.
This will be a challenging journey and we can use all the help we get. Yes, funding is always welcome but sometimes a phone call with a tip or good advice is just as important. So, help us to make this project a success and create a blueprint for a sustainable and nature-inclusive seaweed sector. A sector that is good for the wellbeing of us and our planet.